Courtyard Garden
A perspective drawing of this small, shaded courtyard in Dublin was first created to meet the client brief of increasing light and generating a sense of space, while also ensuring a low maintenance garden.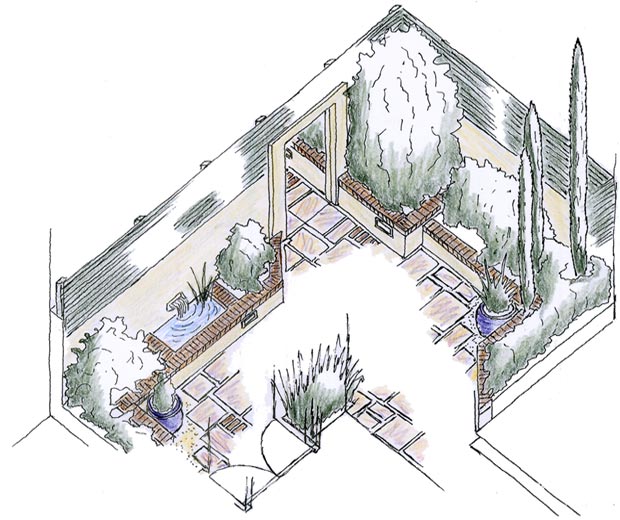 Drawing of a
courtyard garden design

showing the use of

mirror as trompe-l'oei

.

The design of this courtyard uses level changes and horizontal lathed fence panels coupled with mirrors and architectural planting to maximize the sense of space.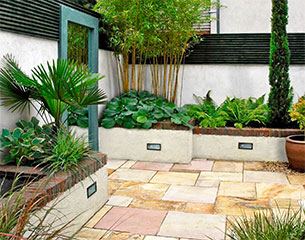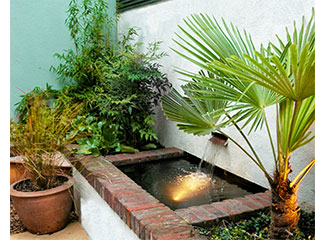 The rich colour of the
sandstone paving

and brick cappings provide warmth to this

small courtyard garden

. The

focal point water feature

is framed by

carefully selected architectural planting

.

The design plan is simple, low maintenance and uncluttered with every plant chosen for greatest impact, while the use of richly coloured finishes adds warmth to what could otherwise be an uninviting space. The cistern type water feature provides movement and soothing sound to the courtyard, and also acts as a strong focal point when viewed from the kitchen.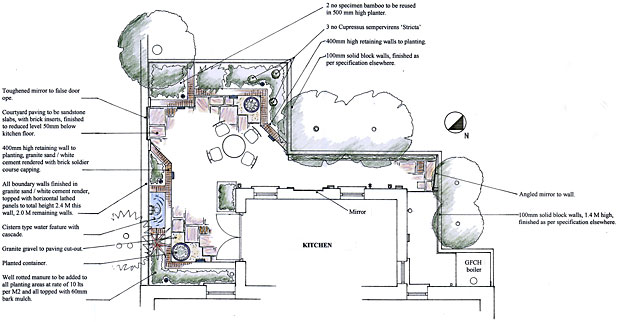 Detailed concept plans

are produced as part of the design process.

The mirrors are positioned to create a false perspective, or trompe l'oeil, giving a sense of space beyond the boundaries of this small courtyard. Careful positioning of the mirrors reflect the garden, rather than the viewer, thereby increasing the impact of this feature.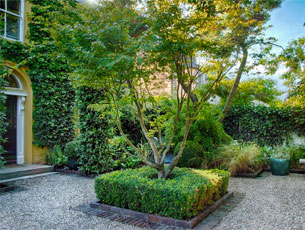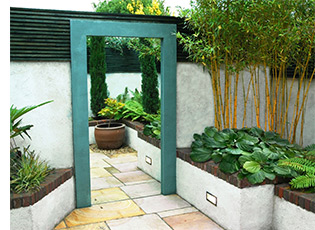 The formal front courtyard, and the use of mirror to create a sense of space in the rear courtyard.