Marian Keyes Testimonial
Marian Keyes Garden >>

City courtyard garden design for Marian Keyes by garden designer

by

Peter O'Brien

.

How did you chose Plan Eden to design your new garden?
Peter O'Brien is a very interesting and visionary garden designer. He's an artist. He took the very challenging shape, dimensions and aspect (north-facing) of my garden and delivered a design that was way beyond anything I could have imagined in my wildest fantasies. It is utterly beautiful, aesthetically perfect and low-maintenance.

What did you want from the design and construction?
More than anything, I wanted something that was low maintenance – because the garden is north-facing, the lawn was more like a bog, with a carpet of moss that needed continual removal.
But I also wanted something that was beautiful. And something that was harmonious with the house – the house was built around 1842 but we have a modern, double-height, angular, glass extension.
I love bright colours and one thing that was very important to me was having a water feature, because the sound of running water is so peaceful. Finally, there is a small courtyard off our sitting room that was dank and gloomy and I loved the idea of bringing light and colour to it.

City garden before redesign

.

What was your impression of the design process?
I was amazed at Peter's design. He took the angular glass extension as a starting point and extended the lines of the garden from that. It was such a thoughtful intelligent plan.
Because of my 'fear' of grass in that space, Peter banished it. Instead it's a very zen space, with granite pathways and gravel fillers, leading to a delightful deck in the area that catches the most sun.

However, the garden still has masses of foliage – there are countless brightly coloured flowers that bloom in rotation throughout the year. Also, his use of bamboo along the edges of the garden created a feeling of an enclosed, safe space.
Peter was extremely receptive to all of my requests for modifications. He listened very carefully until I was certain he 'got' what I was asking for. There was never a sense of ego from him – he was without doubt, the artist in the process, but he still wanted to produce something that I was delighted with.

How did you you feel about the final design?
I utterly LOVED it. I was so happy that, despite my request for a low-maintenance garden, that he still managed to include so many bright colours.
Also he introduced so many wonderfully unexpected touches – like LED-lighting along the pathways, around the water feature and the decking, so that at night, the garden looks like a magic place. On of my more glamorous friends compared it to the pool space in the Mondrian Hotel in LA!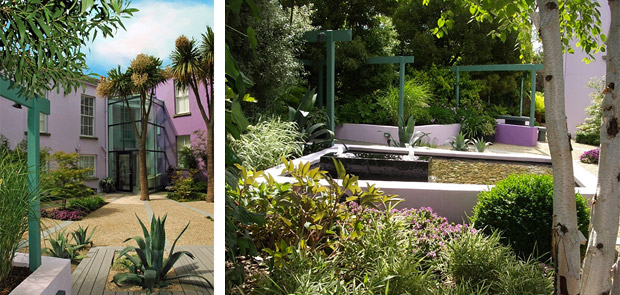 City garden design

.

What was your experience of the construction process with Plan Eden?
Peter and his team are a class act. They are profoundly professional – they project came in on time and with minimal impact on my day-to-day life, which is no mean feat, seeing as we have no side entrance and everything had to come through the house. Tony, my husband was utterly amazed at how Peter's team got their digger through the hall, down the stairs and out our back door – all without one single scuff on the walls.
Our privacy was utterly respected, which was so important, because both Tony and I work from home. Also there were no endless requests for cups of tea! (My personal bugbear, I hate tea and I hate making it. And there was no carpet of spilt sugar all over the kitchen floor, one of the main features of having construction people in.) Peter and his team made their own refreshment arrangements, which I was so grateful for. I could carry on with my work without worrying if they needed anything.
Another thing, the team was a stickler for perfection. It was obvious that they really really cared about making the garden as beautiful as it could possibly be.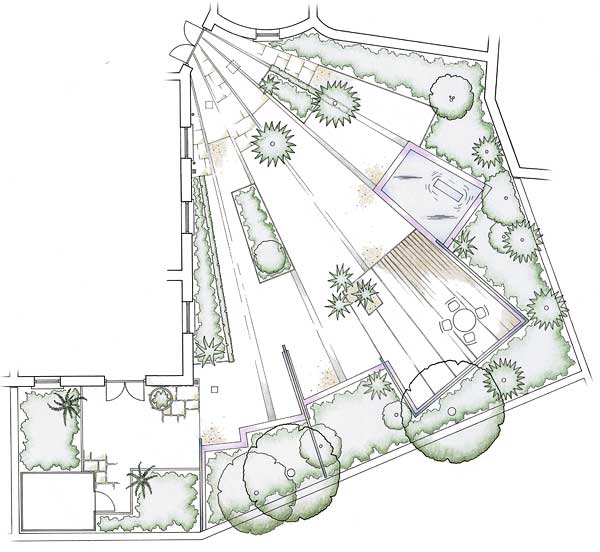 City garden design plan

.

What aspect of the finished garden were you most taken with?
You know, it's really difficult to single out one aspect because everything – the structural lines, the planting, the colours, the water-feature, the lighting, the individual little areas, all come together to creature a stunningly beautiful space that is far greater than the sum of its parts. It is astonishingly beautiful and really needs to be seen for its full impact to be felt. This might be a strange thing to say but what I appreciate most is the intelligence of the design. Everything is where it is for a reason. It all makes sense. I get non-stop pleasure from my garden – the lines, the colourful flowers, the sound of the flowing water and then the way the space changes in the evening, with the coloured LED lighting.

City garden lighting design

.

Do you find Plan Eden's maintenance services beneficial?
In a way, what I value most about Plan Eden is the regular maintenance – Peter didn't just create an amazing garden and then abandon me to take care of it, which would have caused me terrible anxiety. Instead he provides regular, meticulous maintenace, with the same discreet, low-key presence as when he was creating the garden. And it's such a pleasure to see the garden looking so well after each visit.
Also, it means that the garden continues to evolve – Peter will sometimes introduce new planting and if I have any ideas, I can bring them to him.

Overall, would you recommend Plan Eden to others?
Wholeheartedly. Peter O'Brien is a rare creature, an artist, a great visionary, who doesn't create chaos in bringing his vision to fruition. I still can't believe the magical gem of a garden he created for me in my north-facing, suburban garden. I'd had consultations and experiences with other landscapers before meeting Peter and he is in a different league. A consummate professional, a true visionary and a lovely man.



Cliona Dooge Testimonial
Adults Treehouse >>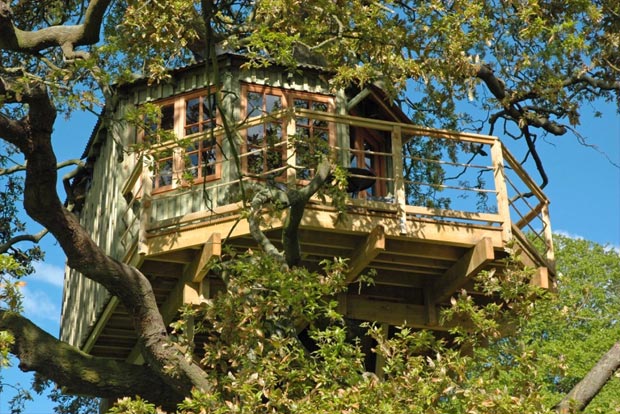 The bespoke treehouse nestled in mature oak

.

Email from Cliona Dooge 10th Jan 2014

Dear Peter,
I built my first tree house a long time ago when I was about 10. It may not have been beautiful but it was wonderful. I would now love an adult tree house with a bed, stove, chairs and a balcony, from which to watch the sunset over my beloved Dee. Over the years I have bought many books on the subject and was going to have a go myself but I believe I need an expert or it will never happen. Would you be interested in looking at the project for me?
Looking forward to hearing from you.
Thanks and best wishes.
Cliona Dooge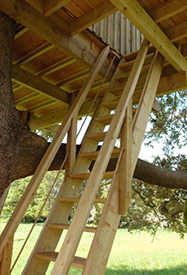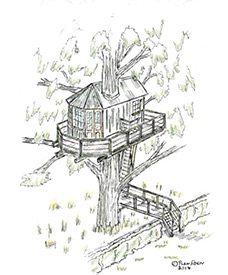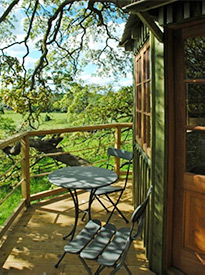 Email from Cliona Dooge 26th Oct 2014

Dear Peter,
Just a quick note to say that the wonderful treehouse is up and running. I and some intrepid others have enjoyed wonderful nights sleep there. They say it is the warmest bedroom in Drumcar. I cannot disagree. The sound of rain is muted and soothing. I expected more tapping of branches but the predominant sound is different. I am working on recovering my fathers kitchen chair and next a table made from an old sewing machine that has been been gathering dust in the stables. Then it will be "fully furnished".
Who knows, there might even be poetry written there but for sure there is already magic!
Thank you
Cliona